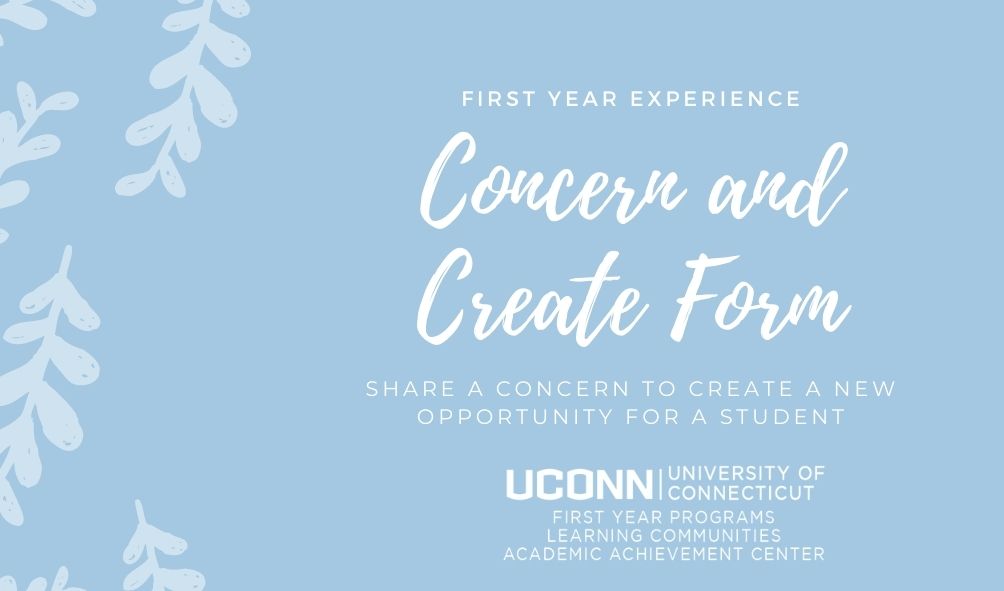 The Office of First Year Programs and Learning Communities takes an active role in ensuring our students are well supported, but we need your help! Our office and the Institute for Student Success are dedicated to undergraduates reaching their full potential during their academic journey at UConn. FYE courses offer a unique opportunity to gain insight into the student experience, thus providing us a legitimate educational interest to create connections. This form is for FYE Instructors and Mentors to show concern about the academic or personal wellbeing of our students. The FYE Concern and Create Form allows our office to process, track, and provide appropriate support to students to provide initial intervention during their time in a First Year Experience class.
Once reports are received, FYP and LC staff will gather information to determine how to best support the student.
Before submitting this form, and when appropriate, we recommend you discuss your concerns with the student.
Please note if your student shows a potential threat of harm to self or others, emotional distress, or immediate aid, you should refer to the UConn Care Form.
Additional campus resources include:
Academic Achievement Center, Tutoring Centers, Cultural Centers, Community Standards, UConn Police, Center for Students with Disabilities, Dean of Students Office, Office of Institutional Equity, Residential Life, Student Health and Wellness, Suicide Prevention Resources