FYE Teaching Innovation Award 2022
FYE Teaching Innovation Award 2022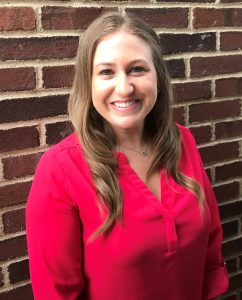 Jessica Groves, MA
Assistant Director, College of Liberal Arts & Sciences
Academic Advisor, Psychological Sciences
Jess is an Assistant Director for the College of Liberal Arts and Sciences, as well as an Academic Advisor in the Psychological Sciences department.  In her dual role, Jess serves the academic needs of the Psychological Sciences majors, while also managing a team of CLAS advisors from various departments.
Since being at UConn, Jess has had the pleasure to teach FYE each year! She continues to teach a year long, non-residential Learning Community for Psychological Sciences majors.  Her favorite part of teaching first year students is watching them grow into more confident and self-assured students and humans.  Her class often combines group activities/sharing with larger topics, both related to UConn and related to their major, career, and self-exploration.  Jess also teaches a Senior Year Experience (SYE) for Psychological Sciences majors as well.
Jess earned a B.A. in Psychology from SUNY Purchase and an M.A. in Counseling from The College of New Jersey. Jess uses her relatability and experiences to help students navigate the varying academic and personal challenges college may present.
Prior to UConn, Jess has worked as an academic advisor since 2014, first at Purchase College, SUNY (Purchase, NY), then at the University of Bridgeport (Bridgeport, CT).  At both institutions, Jess was fortunate enough to teach a first-year seminar course, and remains one of her favorite parts of her job!
In her spare time, Jess enjoys being active with golf and hiking. She also enjoys spending time with friends and family and going down to the Jersey Shore (as an NJ native). Some of her favorite things include soccer, Disney, Harry Potter, and The Office.  In addition, Jess identifies as a first-generation college student.
John T. Szarlan FYE Mentor Award 2022

John T. Szarlan FYE Mentor Award 2022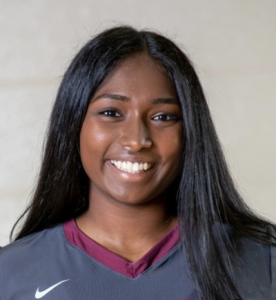 '25 Double Major in Molecular and Cell Biology and Individualized: Health Policy and Racial Disparities
During training, Krithika was asked what type of mentor she wanted to be? And after much deliberation, she was determined to speak her truth - no matter how deep, raw, honest, or vulnerable it may be - to encourage her students to find their truths. To aid the process, Krithika educated her students on the vast opportunities UConn offers and the lessons she's learned along her path towards self-discovery.
As an undergraduate, Krithika struggled to find research opportunities outside of official programs UConn offered. Knowing the stressful experience first-hand, she decided to pursue her solo facilitation on Exploring Undergraduate Research to emphasize her truth of "stay curious and you won't be bored a day in your life." She strived less for a STEM-focused presentation and a more diverse array of research types being pursued at UConn with informational pamphlets, worksheets, and a compilation of opportunities for her out of state students. Krithika did not want the topic of research to end with her solo facilitation, so she informed students of new opportunities in future classes and met with students individually to work on their resumes, cover letters, application responses, and interview preparation outside of class time.
Additionally, being part of the WiMSE Learning Community, Krithika knew creating an inclusive and comfortable environment with a group of STEM students who live together would be difficult when academics was everyone's highest priority. Therefore, she emphasized her truth of "living in the moment" by co-hosting a "Holiday Extravaganza" including dinner, a cookie decorating competition, and ornament making. Krithika helped foster community and encouraged collaboration the week before finals, an infamous time of isolation.
Krithika taught alongside Dr. Sarah Hird, the director of WiMSE House, and is thankful for her willingness to implement her truths during class. She is deeply indebted to Sarah Scheidel, Polina Boily, Noelia Miranda, and Pam Fischl for their mentorship through UConn FYP and giving her the confidence to be herself. Krithika's passions for creative measures in the classroom were heavily influenced by Travis Lavigne, her TA, who encouraged individuality and vulnerability in new environments.
When she is not mentoring with the office of FYP, Krithika serves as a campus tour guide, Secretary of UConn's Pre-Medical Society and UConn's STEMTalk Magazine, an Honors student, an undergraduate research assistant in Dr. Caroline Dealy's Lab at UConn Health, and a clinical volunteer through UConn Health Leaders. After this experience, Krithika has a new profound appreciation for her educators, and hopes to take an interdisciplinary approach to teaching the next generation of medical leaders on health equity in the future.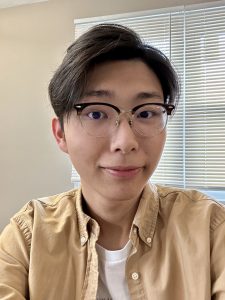 Jifan Li 
'23, Economics Major 
Jifan is an international student from Qingdao, China, currently pursuing a degree in Economics at the University of Connecticut. In his first semester at UConn, he enrolled in the UNIV 1800 course and expressed a keen interest in acting as a mentor for other students. Despite the pandemic causing a delay in his plans, he remained steadfast in his commitment to assist fellow international students. 
Under the guidance of his instructor, Abiodun Obajinmi, Jifan worked as a mentor for an international student section of the UNIV 1800 class. The main objective of this section was to establish a comfortable and supportive environment for international students, both academically and socially. As a mentor, he curated various in-class activities, such as weekly self-reflection, trivia, and living tips, tailored to the needs of international students. His primary goal was to promote comprehensive development for international students at UConn. He also made a concerted effort to connect with his peers outside the classroom, frequently taking them out for outdoor activities. He believed that building relationships beyond the academic setting was an essential part of the college experience and something that he highly valued. 
As Jifan applies to graduate school, he reflects on his time at UConn and the invaluable experiences he gained through the FYE program. He is grateful for the opportunity to have been a part of this program and to have collaborated with the FYE program staff in creating a supportive and inclusive environment for first-year international students. He looks forward to witnessing the FYE program continue to expand and positively impact the lives of future UConn students.
FYE Excellence in Teaching 2022
FYE Excellence in Teaching 2022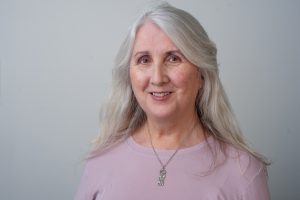 Monica Bullock, B.S.
Educational Program Coordinator
Monica earned a Bachelor of Science in Business Administration, with a minor in Psychology, from Frostburg State University. In college she was a Resident Assistant and Membership Chairman for her chapter of Alpha Xi Delta National Women's Fraternity. 
Following graduation, she worked as a professional career recruiter in the Washington DC market. She went on to work in the insurance industry progressing through various positions: Regional Office Supervisor at Banner Life, Regional Manager at FHP Healthcare - Arizona, and finally as Director of Customer Service for Foundation Federal Health Services. 
After taking a career break to raise her two children, Monica reentered the workforce as a Print Advertising Designer. Concurrent with this she started a consulting business providing speech writing for audiences of all sizes, technical writing of web content, print advertising and branding materials. She also worked as a public school substitute teacher, and served for two years as a Service Unit Manager for Girl Scouts of Connecticut. 
In May 2012, Monica started working at UConn - Storrs as the interim Academic Advisor for the Department of Psychology with a starting caseload of over 600 students. In November 2012, she started her current job as Educational Program Coordinator for the UConn School of Engineering Undergraduate Program. In this role, she coordinates events such as: SoE Career Fairs, Senior Design Demo Day, Commencement, the Law School for Engineers event and others. She assists program faculty, staff and students; responds to inquiries from students, parents, faculty and others regarding program policies, procedures and requirements, making referrals as appropriate. In support of students, Monica strives to find answers for any student who needs assistance and thereby has become a "go to" resource to help undergrads in their journey to be successful college students. She is the Program Coordinator for the Engineering House
Learning Community (EHLC) and often teaches one section of UNIV-1810 for first-year students in EHLC. 
Monica served as the faculty advisor for the Acts of Kindness Initiative club until 2021. Prior to this, from May 2014 to May of 2017, she was the Staff Advisor for the MEM Society. 
Monica loves traveling and anything 'art." She has a husband, two children (both are UConn grads) and a dog named Gus who runs the household most days.
Inclusive Excellence in FYE Award 2022
Inclusive Excellence in FYE Award 2022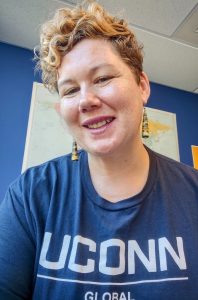 Valerie Jenkelunas, M.A.
Experiential Global Learning Advisor
Community Liaison Specialist
Valerie is an Experiential Global Learning advisor and the department's Community Liaison Specialist, working with the campus cultural centers to promote study abroad and funding opportunities to students from diverse backgrounds. Her EGL advising portfolio includes CLAS students in Anthropology, Communications, Human Development and Family Studies, Linguistics, Political Science, Psychological Sciences, Public Policy, Sociology and Speech, Language, and Hearing Sciences, as well as ACES and Individualized majors. Valerie also serves as the Gilman Scholarship certifying advisor at UConn.
Valerie earned a M.A. in international education at the School for International Training (SIT) Graduate Institute in Brattleboro, Vermont and a B.A. in English with a minor in art history from the University of Hartford. She is a first generation college student with a passionate for education abroad student diversity and accessibility, scholarships, and service learning initiatives.
Following her graduate degree, Valerie worked in Phoenix, AZ, where she applied the founding principles of experiential learning and international education to the creation of a skill building program for newly arrived refugee families from around the globe. This experience, along with working in other non-profit and educational settings to support clients and students, have inspired a deep commitment to diversifying student access to study abroad and experiential learning, so all students can experience the transformational learning inherent in these structures.
FYE Outstanding Graduate Teaching Award 2022
FYE Outstanding Graduate Teaching Award 2022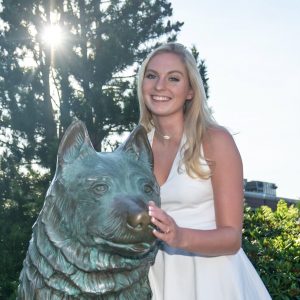 Shannon Healey
Graduate Student, MA in Higher Education and Student Affairs
Shannon Healey (she/her) is a second year graduate student in the Higher Education/Student Affairs Program. Shannon works in Residence Life as an Assistant Residence Hall Director in Werth Tower, working with the EcoHouse, Innovation House, and Engineering House Learning Communities.
Shannon is a Connecticut native and UConn Class of 2020 alum, with a Bachelor of Science in Business Management and a Bachelor of Arts in Human Development and Family Science. Shannon first realized her passion for working in higher education when she was an orientation leader for UConn's Class of 2023 and has brought that passion for helping students find their home in higher education into her practice as a residence hall director.
During the Fall of 2022, Shannon had the pleasure of teaching a Univ-1800 class alongside her mentor, Sean Griffin. Creating meaningful connections between students and with campus resources to facilitate the transition into the university setting were two main priorities for Shannon and Sean's FYE class. Shannon and Sean built much of their curriculum around students' needs and feedback and by trying to incorporate meaningful activities to foster a sense of community.
Shannon would like to thank Sarah Scheidel, Polina Boily, and the FYE staff for their continued support, her students for making FYE such an amazing experience, and Sean for being not only a great FYE mentor, but a wonderful friend.
One UConn FYE Teaching Award – Avery Point Campus 2022
One UConn FYE Teaching Award - Avery Point Campus 2022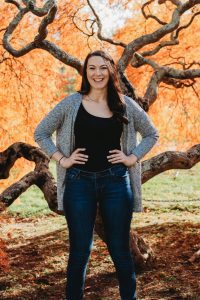 Jennifer Platts M. Ed 
Academic Success Advisor
JP is an Academic Advisor on the UConn Avery Point campus where she helps students explore their academic interests, identify resources for additional information and support and guides students through developing plans of study to match their goals. She taught FYE her first semester at UConn Avery Point in the fall of 2021. The following year she took on the entire FYE program to create a different experience for Avery Point students. JP enjoyed working with FYE mentors and getting to watch students grow and develop in their first semester at college. 
JP earned her bachelor's degree in Marketing from Johnson and Wales University in Providence, RI. She received her Master's degree in Educational Leadership with an emphasis on Higher Education from Northern Arizona University in Flagstaff, AZ. In her previous role JP was the Associate Director of the DeSousa-Brent Scholars Program at St. Mary's College of Maryland, the National Public Honors College. This program focuses on the success and retention of students from minoritized communities while they work toward their degree at SMCM. As a first-generation college student herself, JP is passionate about making higher education as accessible as possible and removing barriers for students when she can. 
JP is grateful for all the amazing students and mentees that she has been fortune enough to work with in her professional career. Her students are her biggest motivation and the driving force behind many of her accomplishments.
One UConn FYE Teaching Award – Hartford Campus 2022
One UConn FYE Teaching Award -
Hartford Campus
2022
Academic Advisor
Abby started at UConn's West Hartford Campus in the Fall of 2015 and was originally an MCB Major (Molecular and Cellular Biology). After a semester of exploring careers and majors, she decided to pursue her Bachelor of Science in Psychological Sciences with a Research Track. She transitioned to Storrs in her third year and was welcomed by another community of Huskies and began her work in the Early Detection Lab under Dr. Deborah Fein and Dr. Marianne Barton in the Weston A. Bousfield Psychology Building. After graduating from UConn in 2019, Abby attended Central Connecticut State University (CCSU) to complete her Master of Science in Counselor Education for Student Development in Higher Education. She had the amazing opportunity to serve the students at CCSU via the Learning Center under the supervision of Beth Spear (M.S.) and Dr. Kate Ayotte. Abby then returned to UConn Hartford in the Fall of 2021, to begin serving the newest generation of Huskies as one of their Academic Advisors.
Currently, Abby advises first and second year and transfer students. In addition, she is also a UNIV 1800 instructor and the Staff Advisor for UConn Hartford's GSA (Gender and Sexuality Alliance) Club and AAPIA (Asian American Pacific Islander Association). Abby is also the Advising Events Coordinator at UConn Hartford and co-facilitates the hiring, training, and functions of Orientation Leaders. Her greatest joy is serving the students at UConn and providing them with memorable and meaningful experiences with every chance she gets. She would like to thank her students, colleagues, and the amazing FYE staff for this award and recognition!
One UConn FYE Teaching Award – Stamford Campus 2022
One UConn FYE Teaching Award -

Stamford
Campus
2022
ACES Academic Advisor
David currently serves as an ACES Academic Advisor at UConn Stamford where he supports positive student development by providing proactive and holistic advising, connecting students to campus resources, and assisting with course registration, exploration and selection of majors/minors, and career and postgraduate planning. As an FYE instructor for the past few Fall semesters, David has embraced the opportunity to transfer appropriate knowledge and information focused on educational persistence, academic and social acclimation, and college readiness skills to ensure that first-year students gain the tools to make sound decisions about their academic and career goals. He also uses the FYE course to discuss real-life topics such as social injustice issues, personal finance, ethics, travel, teamwork, the power of communication, and more. In addition to his advising and teaching roles, he helps the Admissions team at UConn Stamford with Admitted Student Days by facilitating an academic advising conversation with newly admitted students and their parents. 
David earned his M.Ed. in Higher Education in Student Affairs from Salem State University (MA), and his B.A in Performance and Communication Arts from St. Lawrence University (NY). Prior to working at UConn, he lived abroad in New Zealand and worked at Auckland University of Technology in a few administrative roles. Working in a different country in an unfamiliar educational system was an amazing experience that helped him develop into a well-rounded academic advisor and professional. David's unwavering passion for educational access and success compels him to find different opportunities to support students in various capacities. David loves working with UConn students and being a guide and bridge to their success in and out of the classroom.
One UConn FYE Teaching Award – Waterbury Campus 2022
One UConn FYE Teaching Award -

Waterbury
Campus
2022
Center for Academic Programs Coordinator
Student Services
Lillie has worked for the University of Connecticut for 29 years as the Student Support Services Coordinator for the Waterbury campus. One of her responsibilities is to provide a strong supportive network and programming for first generation students to help them reach their academic, professional, and personal potential at UConn and beyond. Providing the necessary support needed to empower them in their quest for pursuing their goals to improve the trajectories of their lives has been the highlight of her career at UConn. She has enjoyed the privilege of teaching the First Year Experience course since 2001. Lillie's philosophy of teaching that class has been an interactive and collaborative learning model which includes team building , mentoring, fostering learning styles , building personal and professional relationships, and encouraging them to be proactive in pursuing their education. SSS Waterbury Graduates continued their education in various professions such as medical, education, social services, law and many other advanced degrees. 
Lillie earned her bachelor's degree in education and a Master of Art degree in Counseling. Her higher education training was obtained from Shaw University, Raleigh, NC; Goddard College in Plainfield, VT; and Liberty University, Lynchburg VA.
She has participated and co-chaired several committees and served as advisor to different student organization: Waterbury campus Community Outreach Committee and Co-Sponsored the Annual Waterbury Community Fair,  Member of The Regional Campus Forum (formerly, The Regional Enrollment Management Committee), Member of Waterbury Campus Dismissal Committee, Member of Waterbury Retention Committee, ISS Professional Development Committee, SSS Retention Committee, Co-Chair Waterbury Diversity, Equity, and Inclusion Committee, Co-Coordinate Waterbury Tutoring Center / Q Center, Member of the Waterbury campus Pantry Food Insecurity Committee, Co-Chair Retention Committee at the Waterbury campus, Assisted in developing and Co Coordinating the Pilot Beyond Access Program for the Waterbury campus), and Co–sponsored several Black History Events (with two science professors) including the Waterbury community (1999-2001). She also participated in and earned a certificate from the 2010 Greater Waterbury Leadership Program sponsored by the Waterbury Chamber of Commerce.
She has also served as an advisor to student clubs at the Waterbury campus such as The Collegiate Health Service Club (CHSC), The Multi Culture Club, The African American Club, and The Black Student Association (BSA). 
Lillie is a champion of supporting equal educational opportunity education for all students. During her employment at UConn, Lillie's professional activities included being a proud member of the Connecticut Association of Educational Opportunity Programs (CAEOP). During that time, she served on the Executive Board as: Secretary, Treasure, Vice President/ Conference Chair, President Elect and President. In addition, she is a member of the New England Educational Opportunity Association (NEOA). Lillie has served on the Executive Board as CT State President and the TRIO Achievers' Alumni Chair. 
Lillie loves spending time with her family. Her hobbies include sewing (when time permits), reading, listening to music, relaxing and watching TV. She is a member of Immanuel Missionary Baptist Church and has served as a member of the College Ministry and the Missionary Sociality.