FYE Teaching Innovation Award 2021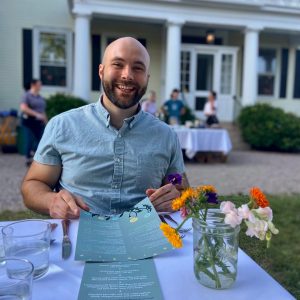 Jeffrey Benike, M.S.
Resident Hall Director – Werth Tower
Jeff is from Minneapolis, Minnesota and is a Residence Hall Director in Werth Tower working with eight learning communities on-campus. He is passionate about helping students through difficult transitions and guiding them to understand themselves through their own perception of the world. He brought this into his FYE 1800 class where students focused on synthesizing their experience with art and media to interpret their perspectives and the social world around them. Jeff's focus on humanistic teaching and learning techniques allows for students to create their own structure to the class allowing for more buy in and students feeling cared for and understood. Taking away much of the structure surrounding the class, including hard due dates, allowed students to learn at their own pace and take adequate time to understand their thoughts through self-reflection.
Before working at UConn, Jeff worked as a Residential Life Coordinator at Eastern Washington University where he was the advisor for the Experiencing the Arts Community and taught the class Psychology of Leadership (PSY 297). Jeff received his B.S. in Psychology from the University of Wisconsin – La Crosse and his M.S. degree in Higher Education from the University of North Dakota. Jeff's focus for both degrees was life-span development and how infusing identity and autonomy into learning opportunities help create better learning outcomes for students.
---
FYE Teaching Excellence Award 2021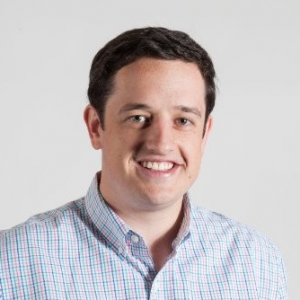 Nick Delaney, EdD
Assistant Director of Student & Faculty Engagement,
Director, Engineering House Living & Learning Community
Co-Manager, International Engineering Program
Nick is the Assistant Director of Student and Faculty Engagement at the School of Engineering at UConn. He serves as the Director of the Engineering House Learning Community (EHLC), the Co-Manager of International Engineering Programs, and the Co-op Coordinator for the School. He has been working at UConn since 2013 in various capacities, first starting as an academic administrator in the School of Fine Arts Dean's Office, then as an academic advisor in the College of Liberal Arts and Sciences' Academic Services Center before joining the team at the School of Engineering's undergraduate programs office.
Nick earned a B.A. in Legal Studies and Education from the University of Massachusetts – Amherst, an M.Ed. in Elementary and Special Education from Westfield State University, a Post-Masters Certificate in Post-Secondary Education and Disability Services from the University of Connecticut, and a doctoral degree in Educational Leadership (Ed.D.) from the University of Hartford. His research and dissertation focused on organizational leadership and management in higher education.
Prior to working at UConn, Nick taught K-12 at various levels in special education resource classrooms throughout Massachusetts and Connecticut. He also worked as an academic coach for an educational consulting firm, working with college students across the country. He serves as a volunteer basketball coach for youth programs in West Hartford, and is a commission member on the West Hartford Advisory Board for Persons with Disabilities.
Nick has had the pleasure of teaching FYE since 2015. He highlights his in- classroom experiences as some of the best since starting at UConn. Helping students assimilate to college life, and helping them find their own community at UConn is what brings him back each year with a renewed passion for teaching, mentoring, and coaching. In his new role as Director of the EHLC, Nick gets to work with a fantastic group of first-year and sophomore students in UNIV 1810 and 3820, and hopes to continue to create this fantastic sense of community for years to come.
---
Inclusive Excellence in FYE Award 2021
Associate Professor in Residence: ASL (American Sign Language) Studies
With the introduction of the new ASL (American Sign Language) Studies Major in 2020, the first and only program in Connecticut. As Coordinator, as well as major, minor and honors advisor of the ASL Studies program, Dr. Pelletier continues to devote her time to expanding opportunities for greater inclusion, collaboration, and engagement of ASL and the Deaf community with programs across campus and beyond. To this end, and in collaboration with Donna McNeill, FYE Mentor, Dr. Pelletier taught the first ASL FYE course this past fall of 2021.
She received her BA degree in Elementary Education from Eastern Connecticut State University, MA in Administration and Supervision from Gallaudet University in Washington, DC and her PhD in Curriculum and Instruction from UConn. Dr. Pelletier considers herself blessed in having parents who are both Deaf, having been raised with ASL as her first and native language with unique insight and experience within a diverse and culturally rich Deaf community. Dr. Pelletier holds two national certifications for interpreting and has worked as a freelance sign language interpreter for more than 25 years. With a strong interest in teaching and interpreting, she has combined both passions serving as faculty at UConn teaching courses related to the process and profession of sign language interpreting.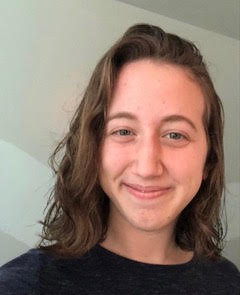 Donna McNeill
'22, American Sign Language Major and Molecular and Cell Biology Major
Donna is a senior studying American Sign Language(ASL) and Molecular & Cell Biology. She is a first-generation college student from Southington, Connecticut.
Donna is the President of the ASL Club, the founder of the ASL Learning Community and the co-founder of the ASL Special Interest Housing Community and the Undergraduate Organization of Molecular and Cell Biology here at UConn. Donna has also served as an instructional assistant for ASL classes for the past three years and through this, has gotten the opportunity to support students' development of skills and relationships with peers and instructors. She created the ASL Learning Community to provide incoming students interested in ASL with a specialized FYE course to introduce them to UConn and the ASL community on campus. Donna also served as the first FYE Mentor for the course this past fall alongside Dr. Pelletier.
She entered UConn intending to minor in ASL and ended up falling in love with the language and with Deaf culture. She became an ASL major as soon as it was available in Fall 2020 and is excited to be one of the first people to graduate with an ASL major in Connecticut. ASL is a small but rapidly growing community on campus and Donna has strived to support and drive that growth in any way possible. She hopes to work alongside the Deaf Community in the future and is so grateful for the beautiful language and community she has been given.
---
FYE Outstanding Graduate Teaching Award 2021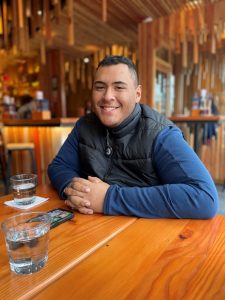 Nikko Garmendiz
Master of Arts (M.A) Candidate, Higher Education/Student Affairs (HESA)
Assistant Residence Hall Director – Werth Tower
Nikko Garmendiz (el/he/him) is a second-year Graduate Student in the Higher Education/Student Affairs Program. Nikko works in Residence Life as an Assistant Residence Hall Director in Werth Tower, working with both La Comunidad Intelectual and ScHOLA2RS House Learning Communities. 
Originally from New York, Nikko earned a Bachelor's Degree in Sociology from SUNY Geneseo in December 2019 and worked as a Hall Director at Geneseo before coming to UConn in the fall of 2020. Nikko's passion within higher education lies in supporting students with marginalized identities and has also worked with the UConn SSS Summer Program as a Residential Coordinator this past summer. 
Nikko had the opportunity to share an Univ-1800 class with his mentor Caroline DePinto this past fall, as well as 19 amazing students. Being a Latinx, first-generation student himself, Nikko understood many of the issues that first-year students face and wanted to make the transition from (virtual) high school to UConn as smooth as possible. 
With a mixture of guest presenters from different areas and in-class activities, Nikko tried to help every student in his class feel a strong sense of belonging in the class and at UConn. Nikko would like to thank Caroline and his students for this amazing experience, and the FYE staff for this amazing opportunity!
---

John T. Szarlan FYE Mentor Award 2021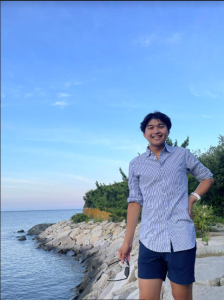 Richmond Le
'23, Healthcare Management Major & Political Science Minor
In training to become an FYE Mentor, Richmond set his intention to facilitate a class that echoed how memorable his first year experience was: a class where everyone could be confident enough to participate. With that in mind, he set to design a space where his mentees would find comfort in communication and confidence in participation. One of the strategies to help his mentees find success came through his solo facilitation. After feedback from his one on one meetings revealed that students were not comfortable with their own interviewing skills, he put together a storytelling/interviewing bootcamp to bring them to a higher comfort level to successfully ace the interview.
Additionally, being a part of the Business Connections Learning Community for two years, he felt compelled to support those who have helped him on his journey. Grateful to be a part of it for a third year, he did a top to bottom review of each class for the semester as well as listened to the concerns of his mentees. With the blessing of his advisor in the LC, Amanda Spada (who now serves alongside him as an instructor), he was able to take his solo facilitation and apply it to become a part of the current framework of the BCLC FYE teachings, allowing all students in the community to become skilled storytellers to apply the craft to a formal networking setting.
Richmond's experience in the FYE program has been heavily influenced by the teachings of his TA, Rachel Griffin (now an STA), as well as Polina Boily and Sarah Scheidel who have served as his own instructors. He is happy to stay teaching for another semester alongside Amanda Spada and his mentees who have immensely shaped his leadership experience.
When he is not mentoring with the Office of FYP, Richmond serves as a campus tour guide, is President of the Healthcare Management Society and Club Swift (a Taylor Swift themed student organization), a TME (The Major Experience) Mentor, an Innovate Wellness intern for Student Health and Wellness, an Honors Student, and swims for the Club Swim Team. Just as he transformed his environment in FYE, he is looking to utilize an innovative transformative approach to the healthcare system with a degree in Healthcare Management and a minor in Political Science.
'22, Mathematics Major & Individualized Major
Amayia Cordova is a double major in Mathematics & Individualized Major: Healthcare Analysis and a minor in Healthcare Management and Insurance. She is from New Haven, Connecticut, and is a first-generation College student. Utilizing her own positions and experiences Amayia wanted to direct her FYE students to various opportunities and resources on campus. Some of her involvements are: being the current President of the Nu Mu Chapter of Sigma Gamma Rho Sorority Incorporated, former Secretary and PR Chair of UConn Praise Dance Ministry, being a mentor at the Academic Achievement Center, Tour guiding at the UConn Lodewick Visitors' center, involvement with all five of cultural centers on campus, and recently becoming the 2nd ever African-American woman to hold the title of Miss University of Connecticut.
Amayia Taught A First Generation First-Year Experience course with Dr. Tadarrayl Starke who is the Associate Vice Provost for Student Success. She believes working with Dr. Starke led her to have more meaningful conversations and get a better understanding of what a first-year student or faculty needs to feel connected to the UConn Community. She is extremely thankful to her mentor, students, and faculty that supported her along the way.
After this experience, Amayia wants to continue being a mentor to build a better community for underrepresented students. Amayia will be doing a mentoring program at The Hartford Insurance Company to help college students at UConn get interested in Insurance by doing a case competition through National African American Insurance Association (NAAIA).
---
One UConn FYE Teaching Award – Avery Point Campus 2021
Associate Professor in Residence: Department of Psychological Science
Jamie Kleinman has been a proud Husky for 20 years. She earned her PhD in Clinical Psychology from the Storrs campus in 2007. In 2013 she began teaching undergraduate courses at the Avery Point campus and has been there ever since, currently serving as an Associate Professor in Residence in the Department of Psychological Science. She is committed to creating learning spaces that allow her students to engage in trial and error so that they can be curious and engaged and not simply focus on letter grades. One of Jamie's favorite phrases is, "Anything worth doing is worth doing poorly." While it usually elicits a chuckle from her students, the underlying message is meant to reinforce that when an individual is first learning to do something, there is no expectation that they will be perfect at it.
Jamie has taught three different FYE courses over the past eight years, first a course on media portrayals of mental illness and more recently, courses addressing issues raised by the pandemic and the impacts of systemic racism. The course 'Tools for Wellbeing' was co-created with Provost Carl Lejuez and other clinical faculty members to help teach students skills they can use to manage the stressors of college life amidst a global pandemic. The course 'Interrupting Racism from Positions of Privilege' was co-created with Joleen Nevers and created a space for students to discuss issues related to identity, privilege, and the impacts of systemic racism in their own lives.
Jamie is grateful to be able to work closely with various members of the UConn Nation to help improve the experiences for every Husky.
---
One UConn FYE Teaching Award – Hartford Campus 2021
Undergraduate Admissions Officer
Caroline began her journey at UConn as an undergraduate student, majoring in psychological sciences, and continued to develop her students-first philosophy and skill set by earning her Master's Degree in Neag's Higher Education and Student Affairs (HESA) program. She is proud to have chosen to include both the Hartford and Storrs campuses in her educational and professional experiences. As UConn Hartford's Undergraduate Admissions Officer for nearly 9 years, Caroline's background has centered around supporting students on their individualized paths to personal success. At Hartford, Caroline has also had oversight for visitor services and directed major events including the campus' open houses. She has also served on several committees, including UConn Hartford's web and scholarship committees, as well as the university-wide committee on Diversity, Equity and Inclusion in On-boarding.
In addition to facilitating a UNIV course, Caroline has sought out additional ways to support students by getting involved with undergraduate orientation; acting as a Career Champion; supervising Admissions Assistants; and serving as a UConn Connects mentor.
"I am driven by my passions for college access and for helping students through transitions. Facilitating a UNIV course has allowed me to continue supporting students past their initial enrollment at the university. I recognize the importance of developing a strong sense of community; sharing resources; helping students build off of skills they bring to UConn; and making sure students know- you belong here, and you can do this."
---
One UConn FYE Teaching Award – Stamford Campus 2021
ACES Academic Advisor
Corey currently serves as one of the ACES Academic Advisors on the UConn Stamford campus where she helps students explore their academic interests, identify resources for additional information and support, and guides students through developing plans of study appropriate for their educational and career goals. She was able to teach her first UConn FYE course in the Fall 2021 semester and enjoyed the opportunity to connect with a fantastic group of freshman! In addition to her advising role, she is a partner of The Major Experience program, through which she teaches a section of "Making Major Decisions" and coaches students through exploring majors and careers.
Corey received her Bachelor's degree in Human Development and Family Studies from the University of Connecticut, and her Master's in Counseling with a focus on college student personnel from the University of Bridgeport. Following graduate school, Corey began working as the Associate Director of Career Student Engagement at Sacred Heart University where she assisted students in finding internships and full-time employment, creating resumes and cover letters, and preparing for life beyond university. However, things came full circle in 2021 when Corey returned to her alma mater as an academic advisor. Corey is passionate about student success, retention, and helping students find a major and career that will be a good "fit" for them. Go Huskies!
---
One UConn FYE Teaching Award – Waterbury Campus 2021
​Assistant Professor in Residence: Department of Allied Health Sciences
Tamara is the faculty lead for the Allied Health Sciences major on the Waterbury campus. She took on this role in August 2020, when the major was introduced as a four-year option in Waterbury. Prior to that, she was a Lecturer and Advisor in the Allied Health Sciences Department on the Storrs campus. Her healthcare background is in neurology and orthopedics-based specialties, where she practiced as a Physician Assistant before pivoting to teaching. She is a graduate of Wake Forest University and George Washington University.
Tamara became involved in FYE in Waterbury in order to provide Allied Health and Exploring Allied Health students an early introduction to both the campus and the major. Creating and promoting experiential learning in the Waterbury community is a goal of the Department and of the FYE class. Students research health care needs in the region, and the services in place in Waterbury to address those needs. This becomes a foundation for their participation in community service and healthcare experience throughout their four years at UConn.
---
Honorable Mentions
FYE Instructor Innovation – Linda Pelletier

FYE Instructor Teaching Excellence – Monica Bullock

Outstanding Graduate Student – Andre Rogers

John T. Szarlan FYE Mentor – Valerie Lee, Noelia Miranda, Linh Nguyen, and Faith Watson
---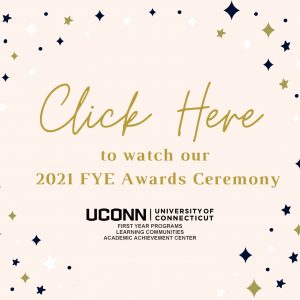 ---